---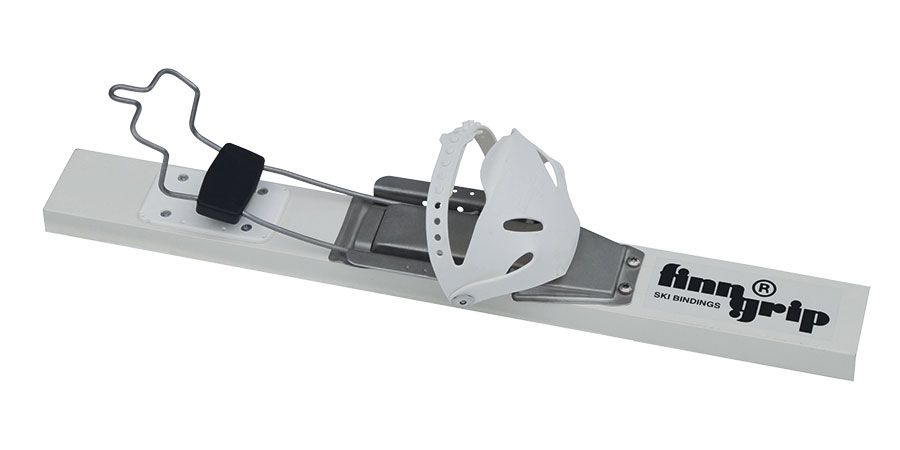 ---
Finngrip Easy
Finngrip Easy – In the binding the skis glide and kilometers glide by
The particular advantage of this binding is that it fits virtually any type of boot. Suitable for sizes from 38 – 48. Please note! The package contains two bindings, as a pair.
---
---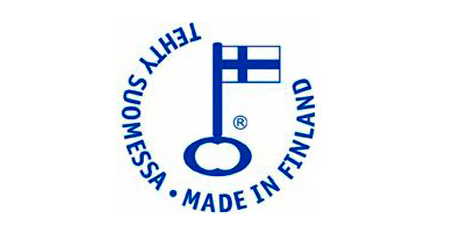 The Patented Finngrip Easy- binding is designed and produced in Finland from the beginning to the end. It is suitable to use with nearly all types of boot.
---
Finngrip Easy introduction

Connect the binding so that the axle (A) is positioned approximately 3 cm from the centre of
balance on the ski towards the ski tip. The heel plate (B) should be positioned 4,5 cm behind the
main binding plate as shown.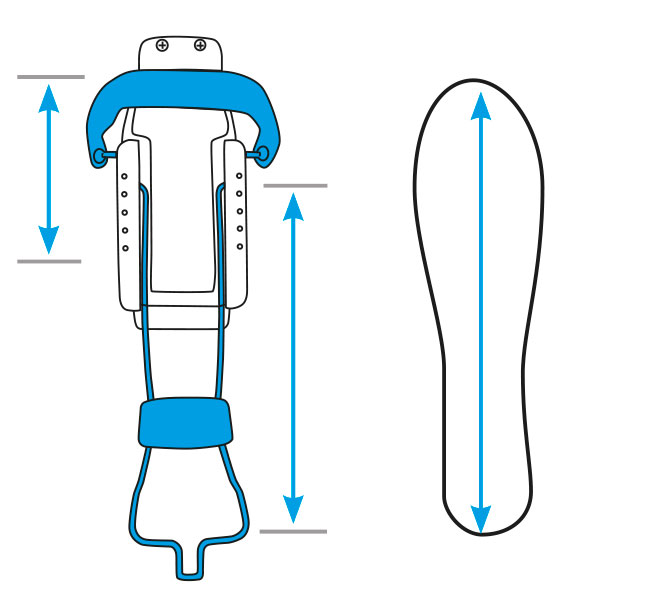 The shoe should be positioned as illustrated.

Lift the binding plate upwards.
First connect the hook 1. in the hole at a suitable position and finally put the other end of the clip into the opposite side.
---
Finngrip Erä -suksiside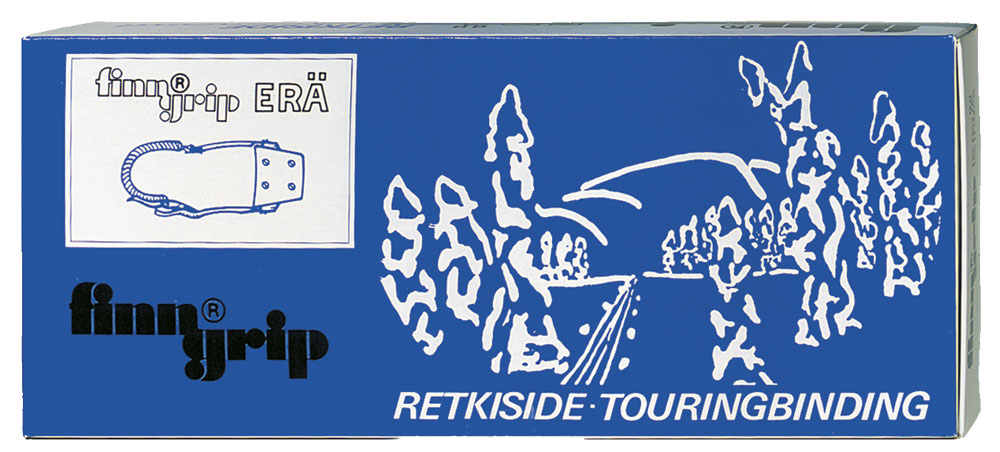 ---
Finngrip Erä
Used by the Finnish Defence Forces
The Kuusamo Finngrip ERÄ ski binding is a reliable choice even for harsh conditions. Fits both off-track skis and snowshoes. These bindings are tested and used by the Finnish Defence Forces.
These bindings can replace the original bindings of off-track skis and snowshoes. The bindings are easy to put on and they can be removed quickly when needed. They also provide robust sideways support for the leg.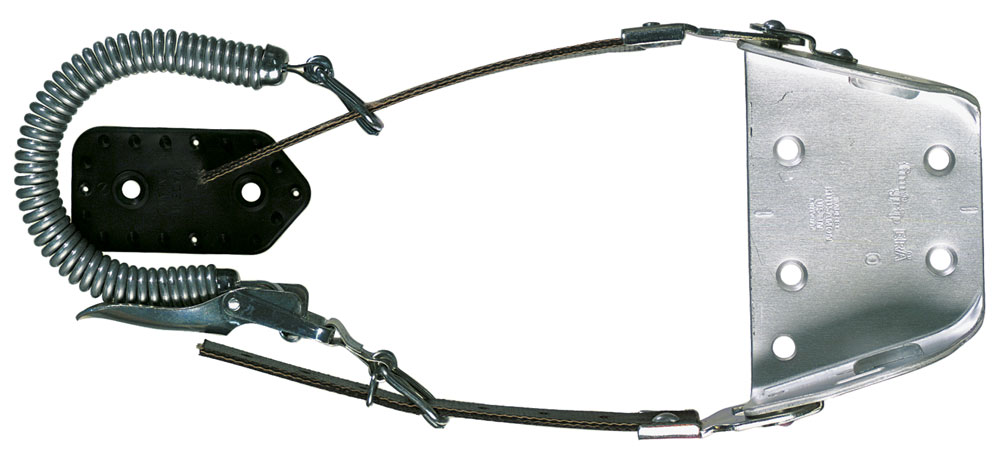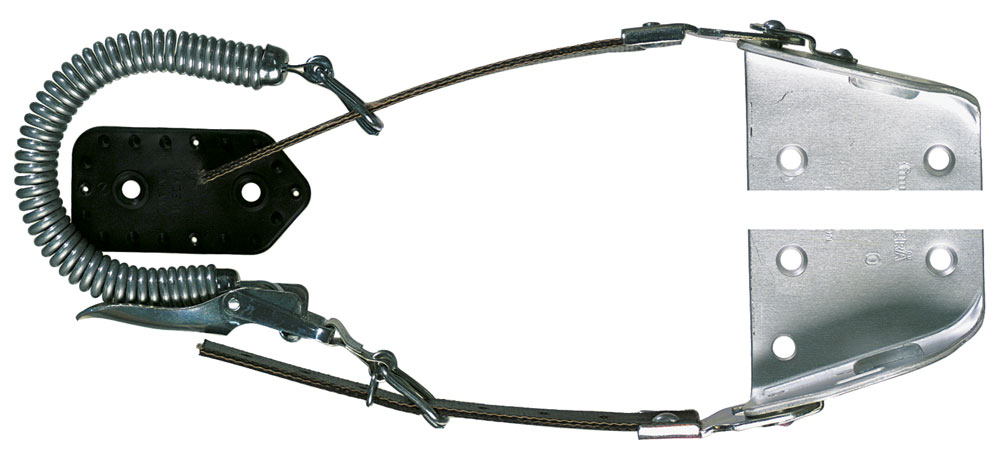 Finngrip Erä -suksiside halkaistu malli
---
Finngrip Easy – ski bindings of champions
Winners trust Finngrip bindings
---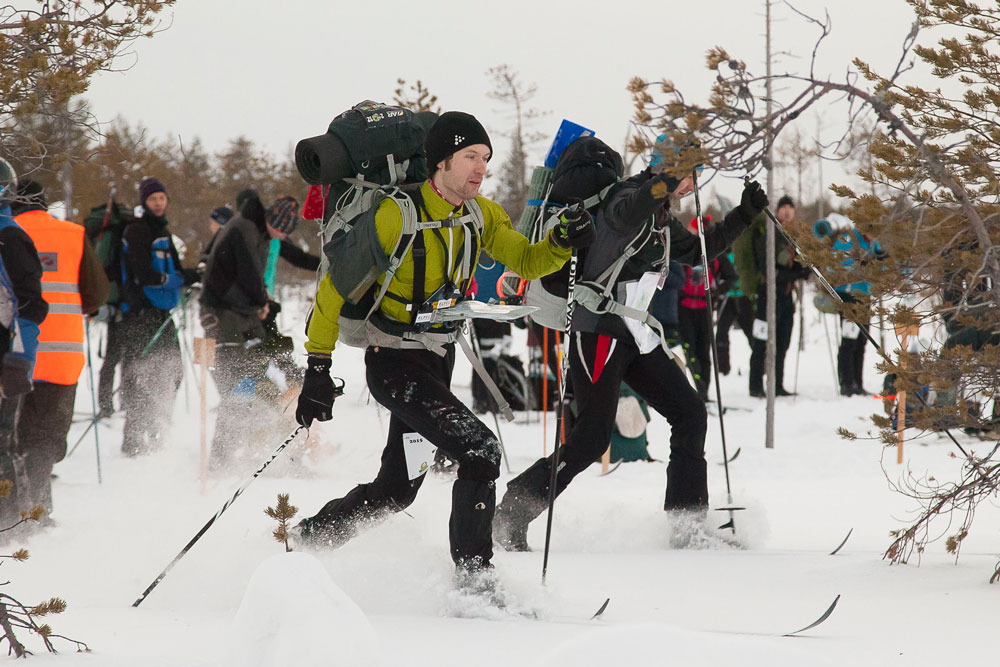 Kuusamo's cross-country ski bindings were in heavy use in the 2015 Off-Track Skiing World Championship in Pudasjärvi. The team that managed come out on top was Finngrip Kuusamo, which consisted of Markus Helander, Jaakko Pitkänen, Janne Kortelainen and Jorma Teivaanmäki. Over the gruelling two days the group skied approximately 70 kilometres. The competition was tough and skiers had to make camp for the night in the terrain without any support. Members of the Finngrip Kuusamo team used Finngrip bindings when preparing for the competition as well as during the competition itself.
We asked Markus Helander a few questions about forest skiing.
How many kilometres do you ski a year?

"The members of the team amass several hundred kilometres of cross-country each year. Some of it is skied in unbroken snow and some on hard-packed snow."

What are the benefits of the Finngrip Easy bindings?
"There are many benefits. They have good suspension, which minimises the stress on the ball of the foot. The functionality of the bindings is highlighted on treks where you need to carry a lot of stuff. I also thought it was good that snow can't easily pack between the ski and the binding. The metal part of the bindings breaks up potential snow balls, which means you don't have to be cleaning your skis all the time. These bindings can also be used with various kinds of footwear. I think that is a very important feature – it allows you to choose your shoes based on the conditions or the nature of the trek. This might feel like a small thing, but the bindings are also silent. I know many models that creak with every stroke. It's very nice to be able to move silently in the quiet forest."
---
World record with Finngrip Easy