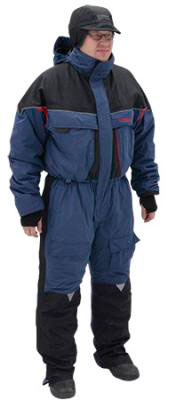 water-resistant

Membrane/water column over 10 000 mm (strongly water-repellent)

breathable

Breathability 6 000 g/m2/24h

Warm

Wool: lower section and sleeves 80 g, elsewhere 120 g. Lining: Nylon. Shell fabric: Pes.
---
Sizes S, M, L, XL, XXL & XXXL
This new suit is designed by professionals to withstand heavy use in a wide variety of harsh conditions. The suit has many wearer-friendly details. We wish you many happy treks in the great outdoors!
---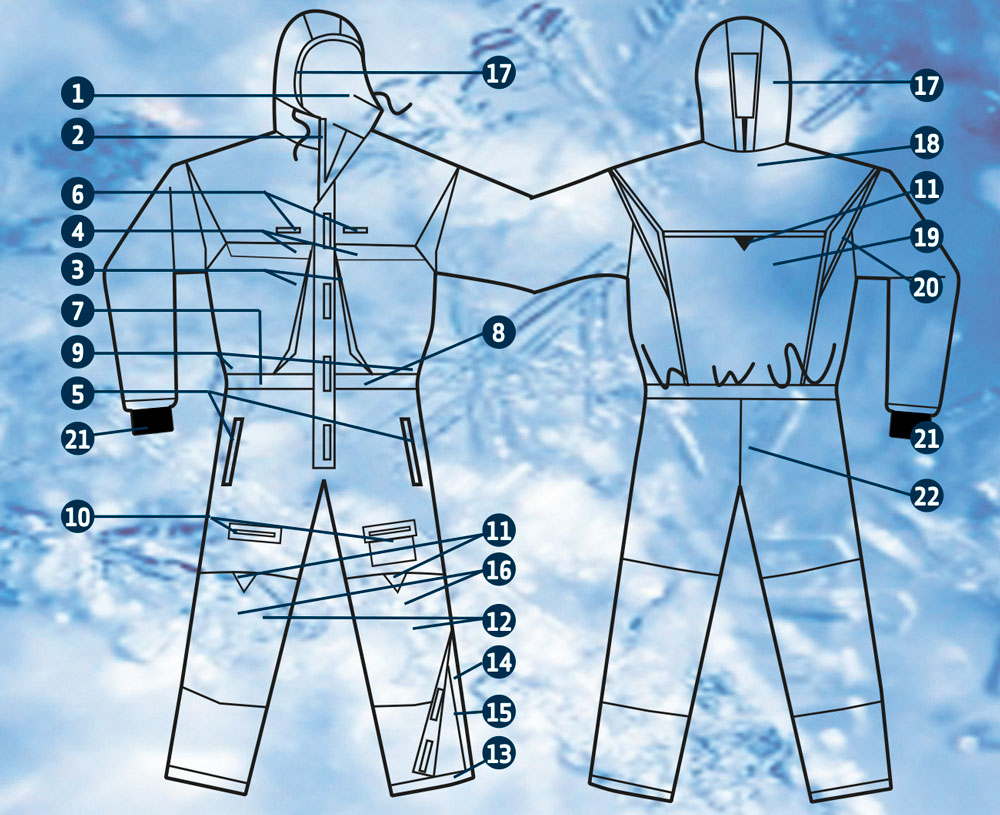 1. Warm anti-pilling fleece on the inside of the collar.
2. Front flap with Velcro attachment and double wind flaps
3. Two zippered inside pockets, one of which is under a wind flap,
4. Two zippered breast pockets with a lanyard for keys on the one on the right.
5. Two hand-warming pockets.
6. Loops for ice picks.
7. Drawstring on the inside of the waist.
8. Loops for suspenders or a belt on the inside of the waist.
9. Two D rings for a knife or the emergency kill switch of a snowmobile.
10. Deep pockets with Velcro tightening. A separate bait pocket on top of the pocket on the left.
11. Reflectors
12. Pleat that facilitates the bending of the knee.
13. The legs can be shortened and they have loops for hanging the suit.
14. Long zippers.
15. Snow gaiters on the legs.
16. Pockets with cellular rubber insulation on the inside of the knees
17. A visored hood that provides great protection against the wind. The hood is adjustable and it may be rolled inside the collar.
18. Nylon reinforcement at the shoulders.
19. Structure that makes sitting easier.
20. Pleats on the inside for better movement.
21. Rib-stitching with thumb holes on the cuffs. The rib-stitching extends to the palm section.
22. Cellular rubber insulation in the seat.
23. Strongly water-repellent and breathable liner membrane between the shell and lining fabrics.